SCHERER WERBUNG GmbH – live communication
As a live and communication agency based in Stuttgart, Germany, we have been planning and realising events and trade fairs of all sizes at home and abroad for many years and cover all areas of event organisation:
congresses
fairs
exhibitions
roadshows
VIP events
staff events
incentives
Our services include
event consulting
event organisation
event communication
event registration
Our customers include national and international companies and groups for whom we develop individually tailored event concepts and implement them completely.
We act as general contractors with overall responsibility or as partners in certain areas. In the course of all our projects, we have gathered extensive experience in event organisation over many years, which is now incorporated as valuable knowledge into the realisation of customer events.
Hygiene concept for hybrid events
Due to the current situation, we have developed a hygiene concept for events. The health and safety of our participants, exhibitors and customers is our top priority. 
Our hygiene book contains information on how events can be held in the future in accordance with the regulations that must be observed, which regulations must be observed and which alternative event formats arise as a result. 
The hygiene concept is based on the general principles and recommendations for action in the operational implementation of events according to the risk classification of the Robert Koch Institute (RKI) and is continuously updated. 
Feel free to contact us if you are interested in our hygiene book!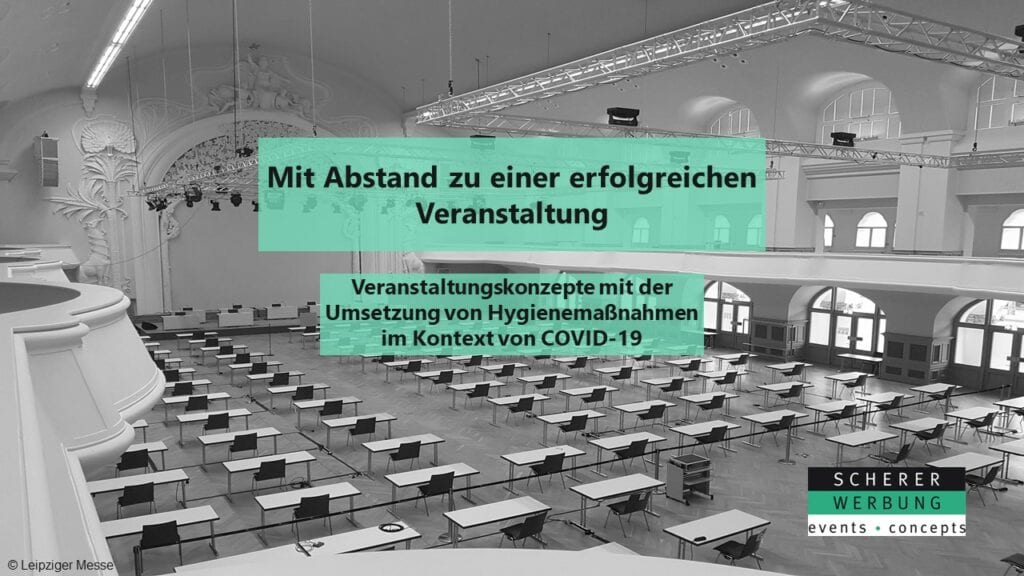 exhibition stands and exhibitions planned and booked
different (worldwide) event locations tested
"Our event has been professionally planned and controlled by Scherer Werbung for years. This has more than paid off. A perfect evening, a full house, satisfied guests and I have plenty of time to relax and take care of my customers."
Wolfgang Spang
ECONOMIA GmbH
"Since 2002, DSAG has relied on the competence and professionalism of the Scherer team for major events. Our success proves us right."
Olaf Müller
DSAG Dienstleistungs GmbH
"The cooperation with Scherer Werbung in Stuttgart is quite simply a pleasure: Klaus Scherer and his team are very competent and committed project partners, they cultivate a holistic view and the solutions result from a great combination of human and technical competence."
Roland Stulz
Intep GmbH
"I've celebrated my birthday twice. Once with family and friends and once with my employees and their families. Everything was super organized, went smoothly and provided for nice memories. The cooperation with Mrs. Sigel was harmonious. My guests and I were more than satisfied".
Wolfgang Schnitzer
Schnitzer GmbH
"We worked with the SCHERER WERBUNG agency for the first time and were very impressed by the professional and cooperative collaboration. Everything simply worked. In line with our corporate philosophy - responsible, precise and fast."
Andre Bilsing
SprintEins GmbH